TSKE provides highly effective and state-of-art packings SPIRAX, Raschig Super-Ring and Raschig Super-Pak.

We have been developing and producing plastic ring packing, "SPIRAX" for more than 40 years as a pioneer of plastic fillers inJapan. SPIRAX has been used in absorption towers in a variety of industrial applications, and we have built our expertise in watertreatments with many achievements in water supply and sewerage systems represented by deaeration and deodorization towers.
Based on the expertise we have acquired through developments and productions, we are expanding our engineering services to our customers for designing more effective towers. We provide a vast array of models, sizes and materials to meet individual service conditions of our customers.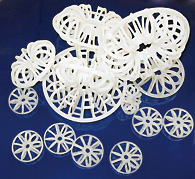 he Raschig ring, the origin of various packing elements, developed over 100 years ago by Raschig GmbH, is a surface-structured packing, which evolved into fourth generation metal column packing, "Raschig Super-Ring (RSR)."Our company formed a business alliance with Raschig GmbH in 1997, and has been providing their products mainly in the Japanese market since then.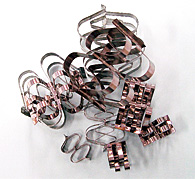 Raschig Super-Pak(RSP) was developed based on the film theory applied to RSR which does not have a channel structure of conventional structured packings.
Due to a unique proprietary structure with surface area (250m2/m3 and 350m2/m3), RSP should be most effective structured packing in the market.
Compared to high performance structured packing with the same surface area, RSP achieves higher vapour and liquid operating range, lower pressure drop and superior separation efficiency.
Our company designs and manufactures tower internals for delivering high performance of SPIRAX.Please feel free to contact us for more information.