High-efficiency liquid-phase oxidation reaction process is used effectively for treating wastewater with intermediate/low concentration of COD components. The system requires no application for the Waste Management and Public Cleansing Law as no fuel is used to treat wastewater under increased temperature and pressure. Combined with the catalytic technology from Nippon Shokubai Co., Ltd., the system achieves further space and energy savings.
Features
Combustion is not applied, requiring no fuel, and exhaust gas does not include NOx, SOx, and dioxins.
No secondary waste such as excess sludge as in biotreatment is generated. The system is applied to wastewater that is difficult to handle through biotreatment.
Detoxifying COD components in Effluent water by catalyst with high-efficiency liquid phase oxidation reaction
WAO is a high-efficiency liquid-phase oxidation reaction process developed under technical license from Nippon Shokubai Co., Ltd. High running costs were a drawback for conventional combustion treatment.
With WAO, a solid catalyst performs efficient liquid-phase oxidation and decomposition of COD components such as organic, nitrogen and sulfuric compounds in effluent water, at high temperature and high pressure. WAO not only exhibits high performance for persistent cases that are difficult with biological treatment, but is effective for treating effluent water with much inorganic COD components as well.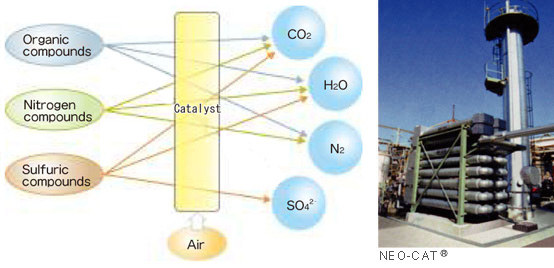 Comparison of WAO with Combustion Treatment
Saves energy as fuel is not required
Decreases environmental load as NOx SOx and dioxins are not included in exhaust gas
No application is required to install WAO in relation to Waste Disposal Law
Comparison with biological treatment
No generation of secondary waste such as organic sludge typically associated in biological treatment
Running cost is 2/3 or less and footprint is 1/3 or less
Advanced treatment recycles treated effluent as service water
No secondary pollution as catalyst itself is non-toxic
Treats wastewater that is difficult to treat biologically
Exhaust gas contains no NOx, SOx or dioxins
Treats 10~500 ton/day of compounds
Applies for decolorization

Main Application
Removal and detoxification of COD components in effluent water
WAO Process
WAO process decomposes organic compounds into air, oxidant, CO2 and water in the catalytic reaction chamber. Nitrogen compounds are decomposed into N2, generating virtually no NOx. Sulfuric compounds are detoxified after their sulfur components are changed into Na2SO4 through decomposition with a catalyst and addition of NaOH solution.
Operative Conditions
Low / pressure method
~0.9MPaG(9kgf/c㎡),
~165℃ (Pressure vessels of Grades 1 and 2)

High / pressure method
~7.3MPaG(73kgf/c㎡),
~265℃ (High-Pressure Gas Safety Law, Pressure vessel of Grade 1)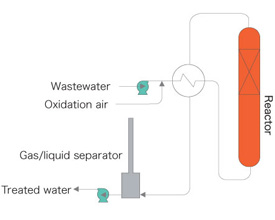 How to Verify
To install +WAO, a test to verify the applicability of the catalytic treatment device is required.
| | |
| --- | --- |
| Evaluation items | Sample volume |
| Concentration and composition analysis | About 2 liters |
| Concentration and composition analysis + autoclave test | 2 to 5 liters |
| Concentration and composition analysis + testing with small continuous machine | About 20 liters |
| Bench test | 1,000 liters |
High-performance catalysts
We use high-performance catalysts made by Nippon Shokubai Co., Ltd.
Catalysts with excellent durability are selected to meet conditions of wastewater.