Absorption, adsorption, incineration and other systems are applied for control and recovery of VOC.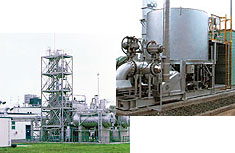 Highly concentrated solvent or solvent that can be concentrated facilitates solvent recovery. Our system can separate and refine solvent components absorbed on activated carbon and desorbed by steam, then returning to the manufacturing process, high quality recovered solvents that are not inferior to commercial products.

Since local exhaust ventilation contains various components with often low concentration, the combustion method is advantageous.

Halogen acid handling which is recovered from the waste material treatment or is refined requires specific technical know-how. Our extractive distillation method was developed to process exhaust gas containing hydrochloric gas by recovering and concentrating hydrochloric acid of any concentration (from low to 100%) for individual requirement.

High-performance packing, SPIRAX (TELLERETTE), allows you to use only one tower to dry the chlorine extracted from electrolysis facilities.

Applications of the system are extensive, which include Freon recovery/destruction method for highly efficient destructions of fluoride-containing waste liquid, exhaust gas by-products such as CFC and HCFC, and various fluorocarbons such as HFC, PFC, SF₆, and NF₃, and the Clean Development Mechanism (CDM) recommended by the United Nations.