We have been developing and producing plastic ring packing, "SPIRAX" for more than 40 years as a pioneer of plastic fillers inJapan. SPIRAX has been used in absorption towers in a variety of industrial applications, and we have built our expertise in watertreatments with many achievements in water supply and sewerage systems represented by deaeration and deodorization towers.
Based on the expertise we have acquired through developments and productions, we are expanding our engineering services to our customers for designing more effective towers. We provide a vast array of models, sizes and materials to meet individual service conditions of our customers.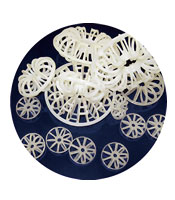 Features
Large usable area with no dead surface area (surface not exposed to liquids)
Low pressure loss with line structure that allows high void rate and decreasing tower diameter
High liquid dispersion efficiency with curved line structure and many contact points in packing layers
Lightweight, strong chemical and mechanical properties with synthetic resin
Ease of filling and extraction using lightweight material
Ease of removing adhesions
Major Applications
Plastic tower packing for deaeration and deodorization towers of water supply and wastewater treatment plants
Plastic ring packing for absorption, diffusion and distillation towers
Property Table of SPIRAX
Item\Type
S-O
S
S-ΙΙ
M
L
L-ΙΙ
LL
PE
PP
PVC
PE
PP
PVC
PE
PP
PVC
PE
PP
PVC
PE
PP
PVC
PE
PP
PVC
PE
PP
PVC
Outside diameter (mm)
47
51
59
73
95
145
145
Height (mm)
19
19
19
27.5
37
48
48
Number of fillings (PCS/m3)
32,500
25,000
17,500
8,000
3,900
3,600
1,150
1,100
1,150
1,100
Surface dimension (m2/m3)
185
180
150
127
94
100
65
Void (%)
88
89
92
89
90
93
95
Weight (kg/m)
110
104
186
105
100
180
76
72
120
97
92
163
88
77
140

73

68
116
50
47
81
Each type of SPIRAX can be made out of PFA, ETFE or PVDF.