The most appropriate treatment system is customized for individual requirements, ranging from waste heat recovery to electric power generation, based on our abundant experience and combustion technology.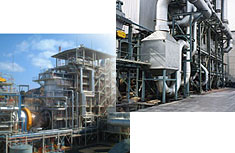 The system is composed of a kiln, stoker and secondary combustion chamber, where gasification is conducted in the kiln, complete combustion of solids in the stoker, and complete combustion of gas in the secondary combustion chamber.

The capacity decrease of remaining final disposal sites in recent years has increased considerations for application of the melting process. TSKE proposes a Melting Kiln System that includes the melting process itself, unlike a system that combines an incinerator and an ash melting furnace.

The moisture content of sludge or sewage sludge discharged from factories is very high. Unlike the kiln or stoker type incinerator, heat is stored in the circulating fluid sand and in the chamber section, which leads to very high heat efficiency and energy-saving operation.

Combustion efficiency is improved with air from the bottom of the furnace delivered evenly into the sand-filled furnace where sand is agitated vigorously, burning even high-moisture waste in a short time.

Optimum desulfurization facilities are provided for exhaust gas, customized for individual requirements, such as glauberite crystals recovery method, seawater method, and calcium sulfate recovery method.

Dioxins contained in combustion exhaust gas are detoxified by catalytic reaction, using either honeycomb or pellet form catalyst.